This biriyani is the one I make when I am tired to cook. It is made in the rice cooker and it is easy too. My friend Srimathy is the one who gave me the basic recipe for it and I just changed it according to my preference.I gave it a name of my own too, its that simple.
Ingredients:-
Basmati Rice - 2 cups (rice cooker cup)
Mixed Vegetables - 1 bowl (carrot, peas, beans)
Meal Makers/soya chunks - 1 small cup soaked and drained
Biriyani Masala - one and a half tbsp
Red Onion - 1 thinly sliced
Tomato - 1 thinly sliced
Green chilies - 2 sliced
Ginger Garlic Paste - 1 tbsp
Cardamom - 2
Bay leaf - 2
Cloves - 2
Cinnamon stick - 1 inch
Mint and Cilantro leaves - chopped together
Butter - 1 tbsp
Oil - 2 tbsp
Cashew nut - chopped 2 tbsp (optional)
Method:-
1. In a big non-stick vessel heat the oil and butter.
2. Add the bay leaf, cinnamon, cloves, cardamom, cashew nut and stir for a minute or two.
3. Then add the green chilies, sliced onions and once done add the ginger garlic paste and cook it till the raw smell goes.
4. Mix in the vegetables and the meal maker and let it cook for a while.
5. Put salt, tomato and the biriyani masala, cook it on medium heat and do not add water.
6. In the mean time wash and soak the rice for 10 minutes.
7. When the masala is well done add the drained rice along with the chopped mint and cilantro and fry well until the rice is well coated and all the water is gone.
8. In the rice cooker pour 4 and a quarter cups of water and mix in the prepared rice and vegetables and allow it to cook until well done.DO not add too much water otherwise the rice will break.
Remember to stir it very gently every 10 minutes.
P.S. - If u like to eat egg, u can add slit boiled eggs to the rice cooker while the rice is getting cooked, as the eggs will get the flavor too. This quantity will serve 3 – 4 people. If u like more spice u can add chopped green chilies. U can make it with chicken/shrimp but remember to increase spice and pour some vinegar as non veg dishes need more spice for flavor.
I am sending this recipe to Sia's
JFI- Soya
event and her blog is
Monsoon Spice
and this is a wonderful event too.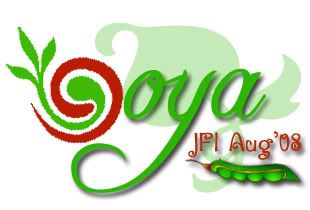 I am sending this dish to Sangeeth's
calcium rich