Pasta is a regularly made dish at home and I wanted to send in something to Sia of
Monsoon Spice
as she is hosting
JFI-Soya
an event with soya based recipes. This entry is also being sent to
A.W.E.D. Italiano
by DK of
Cu
linary Bazaa
r
, as she is hosting an Italian recipes event.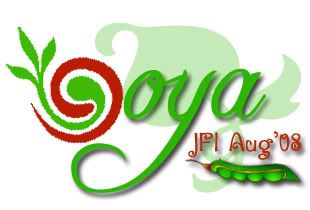 This is a very easy recipe which doesn't need much work and it gets ready within a short time and of course less vessels to wash :)
Soya is rich in protein and I use it at least twice or thrice a month in any dish that I can add it to. This time I used yellow squash with peas and soya chunks. You can use zucchini, mushrooms or any other vegetable that you like and I used the store bought pasta sauce as I was a bit lazy to make a sauce base at home. And any kind of pasta and any cheese of your choice can be used. I have used shell pasta and cheddar cheese for this recipe.Most pasta recipes work just fine with any kind of pasta.
You need:-
Jalapenos - 3 chopped
Garlic - 3 cloves minced
Green olives - chopped 1 tsp (optional)
Squash - 2 cut into 1 inch cubes
Soya chunks - soaked 1 cup
Peas - 1/2 cup
Parsley - fresh 2 tbsp chopped
Onion - 1 medium sliced thin
Pasta sauce of choice - 2 cups
Shredded cheese - 1 cup
Pepper powder - 1 tsp
Pasta - 1/2 lb
Salt to taste
E.V.O.O. - 2 tbsp
Method:-
1. Cook the pasta as per instructions with salt. Get it ready side by side with the gravy.
2. In a deep skillet pour the e v o o and when hot add the chopped garlic, jalapenos and the olives.
3. Once the aroma arises add the sliced onions and allow it to cook completely.
4. When the onion turns pink add the squash, peas and the soya chunks and mix well by adding salt and pepper. Remember to add less salt as the pasta sauce has salt and the pasta will also have salt.
5. Pour in the pasta sauce when the vegetable are half done.
And let it cook on medium heat so that the vegetables get cooked slowly and absorb the flavor of the sauce.
6. When almost done add the chopped parsley and let it simmer for some more time.
7. Add in the cooked pasta and mix it carefully so as to avoid breaking the pasta.
8. Remove from stove and add the shredded cheese and mix it until the cheese melts and gets mixed well.
Garnish with small bunches of parsley and serve hot.
Now wasn't this easy!
I am sending this dish to Sangeeth's
calcium rich