Its been a long time since we had baby corn and having a little soya chunks at home, decided to make it together. It was ready fast and guess what, it tasted great as it was spicy and went great along with fried rice. It seems like I came up with this recipe just in time for the events.
This recipe goes to Sia who is hosting
JFI -Soya
on her blog
MonsoonSpice
, as this event seems to be the right place for this entry.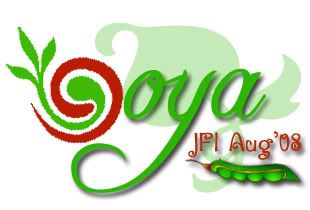 This recipe also goes to
Curry Mela
by Srivalli of Cookign 4 all Seasons.
Ingredients:-
Baby Corn - 1 can cut in halves
Soya chunks - 1 cup soaked
Cumin seeds - 1/4 tsp
Onion - 1 medium minced
Tomatoes - 2 pureed
Ginger garlic paste - 1 tsp
Garam Masala - 1/2 tsp
Chili powder - 1 tsp
White vinegar - 1/2 tsp or Lemon juice - 1 tsp
Cilantro - a handful chopped
Salt to taste
Cooking oil - 1 tbsp
Method:-
1. In a kadai pour the oil followed by the cumin seeds.
2. Now add the minced onions and allow it to cook fully before adding the ginger garlic paste.
3. Once the raw smell is gone add the garam masala, chili powder and fry it well.
4. Add in the soya chunks and the baby corn.
5. After a while add the tomato puree and salt along with the vinegar.
6. Sprinkle a few drops of water if necessary. This dish doesn't have much gravy so if you need more gravy just add puree of two more tomatoes.
7. When almost done add the chopped cilantro and leave it for another minute or two before removing it.
Serve hot!
I am sending this dish to Sangeeth's
calcium rich